The restaurant industry is in a jobs crisis and offers many opportunities for those looking for temporary or additional employment. If you are looking for an extra position in catering, this article is for you.
We will give you ten essential tips for finding an extra position in catering. Whether you're looking for part-time, seasonal work or want to gain industry experience, these tips will help you maximize your chances of success.
What you will learn about finding a job in the catering industry

How restaurant extra jobs differ from traditional restaurant jobs.
The benefits of working in the catering industry, such as flexible hours and varied work environments.
Tips for in-depth research, using online job platforms, and networking to find job opportunities in the catering industry.
How the Un Extra app can help you find a job in catering
Understanding extra jobs in catering.
Define extra-catering jobs:
Before you start your job search at Job Center, it is important to understand what "extra catering" means. Restaurant extra jobs are temporary or casual positions in the restaurant industry.
They differ from traditional catering jobs, such as server or cook, because they offer greater flexibility in terms of hours and availability. Extra catering jobs may include positions in event catering, temporary staff for catering establishments, or even self-employment opportunities. These jobs are often sought after by those looking to gain industry experience or earn additional income.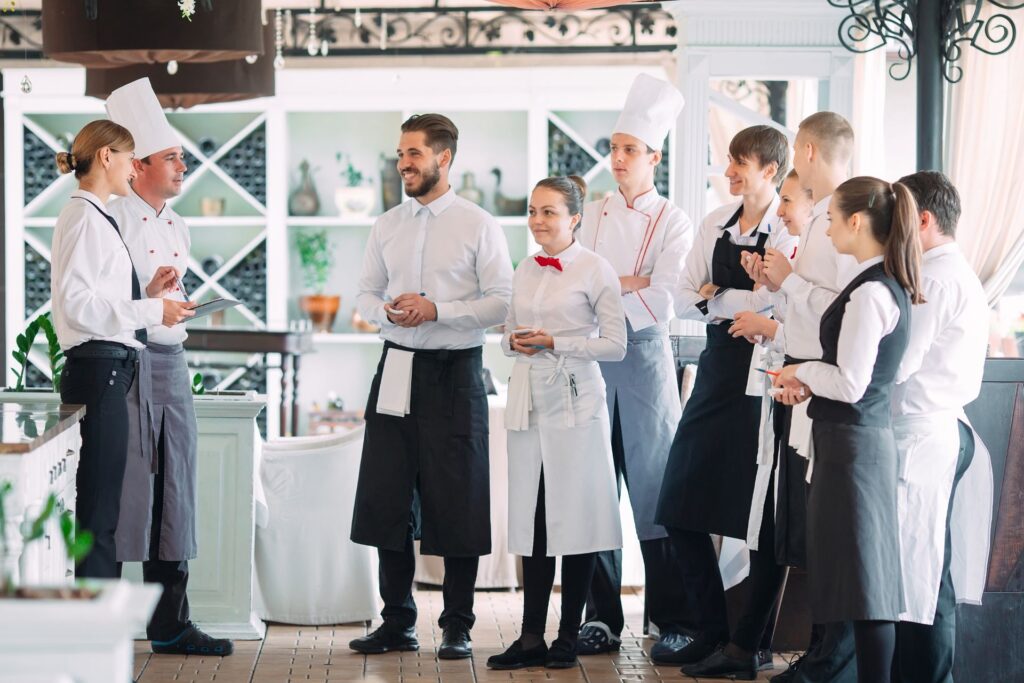 the advantages of extra jobs in catering:
Extra jobs in catering offer many advantages. First of all, they offer great flexibility in terms of working hours. You can choose to work on the days that suit you best, which is ideal for those who have other commitments or are looking to balance work and study.
In addition, extra jobs in catering allow you to work in varied environments. You may have the opportunity to work in different food service establishments, such as restaurants, hotels, event caterers, and more. This allows you to gain diverse experience and expand your professional network.
Extra jobs in restaurants can also offer you the opportunity to develop valuable skills. You will learn to work under pressure, manage your time effectively and provide excellent customer service. These skills are transferable and may benefit you in other areas of employment.
Research and identification of opportunities in catering:
When looking for a catering job, it is important to conduct a thorough search.
Start by checking online job sites, such as Indeed, LinkedIn and An Extra, to find job offers in the restaurant industry.
Use relevant keywords, such as "catering extra job" or "temporary restaurant job," to narrow down your search results. Depending on your region you can search on the Internet for example:
Extra Marseille
Extra in catering in Paris
Extra catering Bordeaux
Be sure to check the websites of local catering companies to see if they have any extra positions available.
The power of the network and your professional experiences
Networking is essential for finding job opportunities, and this also applies to extra restaurant jobs.
Be sure to attend restaurant industry networking events, such as trade shows or job fairs. In addition to in-person events, join online communities dedicated to the restaurant industry.
Professional social networks such as LinkedIn can be a great way to connect with other industry professionals and stay up to date with the latest job opportunities.
Don't forget to talk to people you already know in the restaurant industry, your former employers or colleagues.
They might have information about job opportunities and might even recommend you to potential employers.
Improved skills and qualifications.
identify key skills for jobs in the catering sector:
To increase your chances of finding an extra job in catering, it is important to identify the key skills sought in this field.
Some essential skills include effective communication, there punctuality, the ability to work under pressure and customer service.
Communication is essential, as you will need to interact with customers, co-workers and supervisors.
Time management is crucial, because you will have to be able to adapt to schedules changing and to work effectively within tight deadlines.
The ability to work under pressure is a valuable skill in the restaurant industry, as busy times can be very busy and stressful.
Finally, customer service is essential to providing a pleasant experience to customers and ensuring their satisfaction.
How can Un Extra help you?
Our application allows you to complete your profile and highlight your experiences and various skills in a few clicks. You will then find many job offers nearby!